Lens and Lenses by Tonelli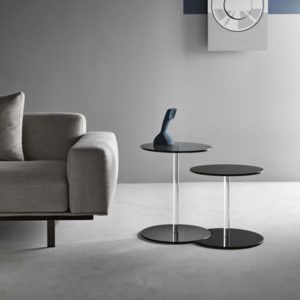 Here we have two great new products from Tonelli, designed by Paolo Grasselli, that perfectly compliment each other.
Lens consists of two separate end tables that can be easily combined thanks to a cut out section in the shorter table. This allows the two tables to be pushed together to create a split level side table/end table.
Lenses appears to be three separate tables but in reality is one table with table tops on three levels. This allows the solid glass stems to support the tops without the need for bases, giving the appearance of the table tops floating in mid-air.
The color schemes offer subtly different tones for a modern visual effect.
Click on the lins below for more information: