Amond by Bonaldo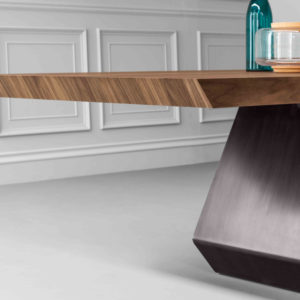 Amond is one of the outstanding designs from Bonaldo at Milan 2016.
The Amond collection showcases what Bonaldo does so well, combining different materials and styles to create items of furniture that play with our perceptions and expectations in a way that always catches the eye.
Amond has a chunky wooden top with a slanted edge that elevates the design into something special. The base is made from steel bent into a diamond shape, which in profile looks too thin to hold up such a table top.
A console table and a version with a marble effect ceramic top are also available, click on the links below for more details: