Fiam "Ambassador of Italy's image worldwide"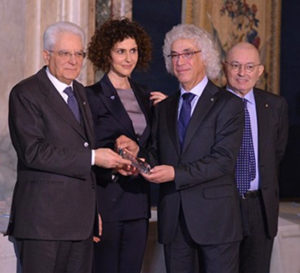 On March 7th 2016 in Rome at the Quirinale Palace, President of Fiam Vittorio Livi was awarded the Premio Leonardo Qualità Italia by by Italian President Sergio Mattarella.
Such a prestigious award is reserved exclusively to selected Italian companies that stand out for their excellence in their field of activity, and whom have distinguished themselves both for the quality of their products and their success in exporting them around the world.
The Leonardo Committee has recognized the entrepreneurial ability, the creativity, elegance and tradition reflected in all of Fiam's products, hence deciding to assign such a prestigious award to the company and to appoint it "Ambassador of Italy's image worldwide" for its internationally recognized value and for the goals achieved.
Click on the link below to browse our selection of Fiam glass furniture: