Metal | Kitchen | Stool | Bar Height | Counter Height | Contemporary Furniture
Sharky Stool Alu Product Data Sheet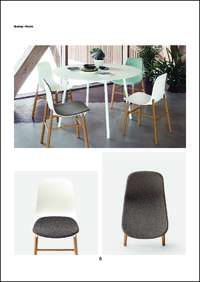 Seat Options
| More Information | |
| --- | --- |
| Designer | Eva Paster and Michael Geldmacher / Neuland Industriedesign |
| Seat options | White polyurethane (PO01), Black polyurethane (PO03), Beige polyurethane (PO04), Terracotta brown polyurethane (PO06), Olive green polyurethane (PO08), Ruby red polyurethane (PO10), London gray polyurethane (LO11), Dust blue polyurethane (PO12) |
| Base options | Solid beech, Solid European oak, Walnut stained solid oak, Lacquered solid wood (in the same colors as the polyurethane) |
| Main seat versions | Plastic seat, Front upholstered (not removable), low back, high back |
| Main leg versions | Wooden base, aluminum base |
Sharky Stool Alu by Kristalia
Description
Stools available in two heights with different seat shapes, with aluminum legs. Two sinuous stools with narrow lines and an overall effect that is extremely resistant. One of the stools entirely replicates the seat of the chair to become a comfortable bar stool, whereas, the other version has been shortened for a more harmonious overall effect. The Sharky Alu stool can be fitted with light padding and upholstered in high-quality Kvadrat® fabric in different colors that create many combinations.
| | |
| --- | --- |
| Brand | |
| Product name | Sharky Stool Alu |
| Designer | Neuland |
| Shipping time | 9 to 12 weeks |
| Shipping charge | FREE |
| Made in | Italy |
Related pages: Kristalia Stools, Contemporary & Modern Stools
Please detail your question below. specifying the size and finish of the product if applicable.
High Back

Front Upholstered PU Body

Alfa

| | |
| --- | --- |
| 19w x 22d x 40h (seat 26h) inches | Call for pricing |

| | |
| --- | --- |
| 19w x 23d x 44h (seat 30h) inches | Call for pricing |

Divina Melange 2/ Divina

| | |
| --- | --- |
| 19w x 23d x 44h (seat 30h) inches | Call for pricing |

| | |
| --- | --- |
| 19w x 22d x 40h (seat 26h) inches | Call for pricing |

Extrema Au/ Field 2

| | |
| --- | --- |
| 19w x 22d x 40h (seat 26h) inches | Call for pricing |

Field 2

| | |
| --- | --- |
| 19w x 23d x 44h (seat 30h) inches | Call for pricing |

Hero

| | |
| --- | --- |
| 19w x 23d x 44h (seat 30h) inches | Call for pricing |

| | |
| --- | --- |
| 19w x 22d x 40h (seat 26h) inches | Call for pricing |

Steelcut Trio 3/ Scuba

| | |
| --- | --- |
| 19w x 22d x 40h (seat 26h) inches | Call for pricing |

| | |
| --- | --- |
| 19w x 23d x 44h (seat 30h) inches | Call for pricing |

Valencia

| | |
| --- | --- |
| 19w x 22d x 40h (seat 26h) inches | Call for pricing |

| | |
| --- | --- |
| 19w x 22d x 44h (seat 26h) inches | Call for pricing |

PU Body

| | |
| --- | --- |
| 19w x 22d x 40h (seat 26h) inches | Call for pricing |

| | |
| --- | --- |
| 19w x 23d x 44h (seat 30h) inches | Call for pricing |

Low Back

Front Upholstered PU Body

Alfa

| | |
| --- | --- |
| 18w x 21d x 36h (seat 30h) inches | Call for pricing |

| | |
| --- | --- |
| 17w x 21d x 32h (seat 26h) inches | Call for pricing |

Divina Melange 2/ Divina MD

| | |
| --- | --- |
| 17w x 21d x 32h (seat 26h) inches | Call for pricing |

| | |
| --- | --- |
| 18w x 21d x 36h (seat 30h) inches | Call for pricing |

Field 2

| | |
| --- | --- |
| 18w x 21d x 36h (seat 30h) inches | Call for pricing |

| | |
| --- | --- |
| 17w x 21d x 32h (seat 26h) inches | Call for pricing |

Hero

| | |
| --- | --- |
| 17w x 21d x 32h (seat 26h) inches | Call for pricing |

| | |
| --- | --- |
| 18w x 21d x 36h (seat 30h) inches | Call for pricing |

Steelcut Trio 3/ Scuba

| | |
| --- | --- |
| 18w x 21d x 36h (seat 30h) inches | Call for pricing |

| | |
| --- | --- |
| 17w x 21d x 32h (seat 26h) inches | Call for pricing |

Valencia

| | |
| --- | --- |
| 17w x 21d x 32h (seat 26h) inches | Call for pricing |

| | |
| --- | --- |
| 17w x 21d x 36h (seat 26h) inches | Call for pricing |

PU Body

| | |
| --- | --- |
| 17w x 20d x 32h (seat 26h) inches | Call for pricing |

| | |
| --- | --- |
| 18w x 21d x 36h (seat 30h) inches | Call for pricing |
More Metal Stools by Kristalia