Discover Phantom by Fiam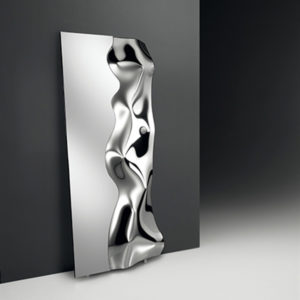 Fiam Phantom mirror, presented during the 2015 Salone del Mobile, comes from the creative genius of the artist and master of light Helidon Xhixha and from the world-famous architects Dante O. Benini and Luca Gonzo. 
Artist Helidon Xhixha has an innate interest in the relationship between his preferred material stainless steel and light, stating that "I do not sculpt materials, I use materials to sculpt light".
The contemporary wall mirror consists of the marriage of the flat half, which represents 'the reality' and a half composed by molten glass that returns a deformed and always changed image of the surrounding environment. The glass meets the preciousness of silver to become an elegant jewel of light. Phantom embodies in itself both the evolution of lifestyles and a classical timeless elegance.
Various shapes of this contemporary furniture are available, click on the link below for more information:
Related pages Fiam Glass Furniture, Fiam Mirrors, Glass Furniture, Glass Mirrors, Mirrors