Porada's History on Display at the Milan Furniture Fair
Porada first created furniture in 1948, which means that the Italian brand is currently celebrating its 70th anniversary. This is why joining this year's Salone del Mobile.Milano is even more special then in previous years.
Porada brought its signature wooden contemporary furniture at the Milan Furniture Fair: new ones, popular ones and some old designs. Three old designs make up the "museum" part of the space, which was dedicated to Porada's "historical" products. These were products which made an impact on people when the Italian brand started making furniture. Porada, of course, updated the design so it will capture the sense of the modern world.
Here are the products in Porada's "museum" space.
Tondo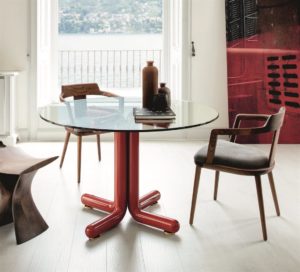 A contemporary dining table with base alternatives of solid ash, canaletta walnut or shiny lacquered stand with brushed brass feet. The tabletop is a round, clear tempered glass of about 12 millimeters. Tondo is also available in a bigger, rectangular dining table with two bases. Designed by Essetipi, the Tondo's base is eye-catching and retro. This is exactly what Porada wants to do, to reintroduce important furniture from the past and update them to keep up with the modern world.
Tony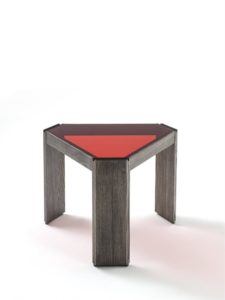 Also designed by Essetipi, the Tony is a triangular side table with a frame made in solid ash. The triangular tabletop is clear tempered glass of about 15 millimeters in thickness. Like the Tondo, this was a design from the early years of Porada, which started in 1948. The brand loves to say that everything started with the love for wood. That is evident in the craftsmanship for the Tony side table. One thing Porada does best is finding a balance between form and function. This Porada table is definitely in great form: aesthetically pleasing and rustic. But aside from that, it is a functional piece of modern furniture. Moreover, it is also a versatile side table. Get six of them together and you will have a beautifully formed living room center table. This just goes to show that the unit was well thought-of and well-crafted. Aside from the center table, stacking three Tonys together would form a cabinet-like furniture that could house figurines, frames, books and other smaller things.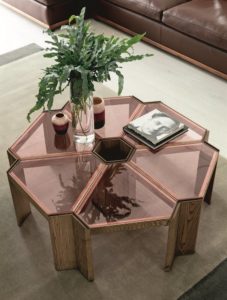 Trittico
Another beautiful side table designed by Essetipi, the Trittico is a round table with frame in solid ash wood and clear tempered glass as tabletop. It also has beveled edges, and like the Tony, the Trittico is also stackable. But stacking these contemporary tables is more to provide height. Also, it makes for another unique design.
The Tondo, Tony and Trittico are around 40 years old. But as these furniture pieces join the Salone del Mobile.Milano or the Milan Furniture Fair, they were given an update so they will look more modern. Another detail to note is that all products under this collection has a 70th anniversary sigil, a small brass plate that says: 70 years of passion for the wood.
Related pages Porada Furniture